Authentic & Tasty Taiwanese Food The Easy Way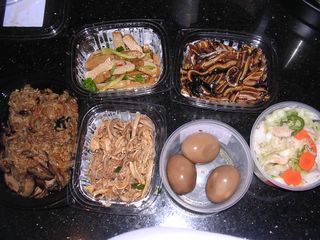 I went into the 99 Ranch Market on Jeffrey and Walnut in the City of Irvine. I like this store. Its so incredibly clean. Even when you go into the fish section, it doesn't reek of beat up fish. Those of you that only go to this store and complain of its slighty higher prices, go to a random supermarket in Little Saigon and you will have a new appreciation for the lack of stank.
If you go to the far left of the store you will find a refrigerated display and you can get eveything pictured in the round containers. If you go to the far right you can get everything you see in the square containers. I would think that they would put these things together in one section. But I am in sales and we think we know everything as sales people.
Starting from far left: Sticky rice with mushrooms, dried shrimp, and pork. Just like Mom makes. When you re heat it, put it in another container as this one will melt and it needs to steam to soften up. Otherwise some of the rice will remain hard. Great blend of textures with a soy sauce type of base.
Fried Tofu Salad in red chili oil. Probably my favorite. You eat it cold. Tossed with green and red chili peppers, juilliene celery, and fresh cilantro. Not spicy at all. Great flavor and I like the texture of fried tofu. Pretty firm and holds up nicely while absorbing the dressing.
Soy Sauce Stewed Pork Stomachs. Sliced of course. Its sliced so thin that it feels tender rather than chewy. Not too salty either. I love this stuff. You eat this hot
Soy Sauce Stewed Sliced Pork Ears. A lot of people can't get past the crunch of the cartlidge. This is sliced so thin, its like paper. You can barely feel the crunch. Its surrounded by gelatinous goodness. A little too much of a concentrated soy sauce texture and taste. A little too salty. But you usually eat this over white steamed rice. This would have been perfect and for all you Whities out there, who pour soy sauce directly out of the bottle on your white rice like you are not supposed to. You eat this hot.
Soy Sauced stewed eggs. Same flavor as above but with hard boiled eggs. The soy sauce doesn't penetrate 100% so they are not too salty. You can eat them hot or cold. I did. Taste like....well... hard boiled eggs in soy sauce!
Pickled cabbage. Eat this cold. Mild flavor with a slight sweet taste too it. Crunchy and refreshing. The flavor of the vegetables is accented rather than covered up (ie Kimchee).
Not pictured are those egg custard cups that I missed at Dim Sum a couple of weeks ago. They were too sweet and the crust was not flakey. Kind of soggy from sitting in a container all day. Get them fresh at a bakery.
All of these items run 2 to 3 bucks each. Its like if Mom cooked them for you and you had leftovers and put them in tupperware. I love the convenience of this and I love the selection of things they have. The authenticity is there as well. Many of these items are unique to this store. I can't find them at the stinkier other locations.